Lemonade Day was a sweet success on June 19.
Dickinson area children sold lemonade all over town.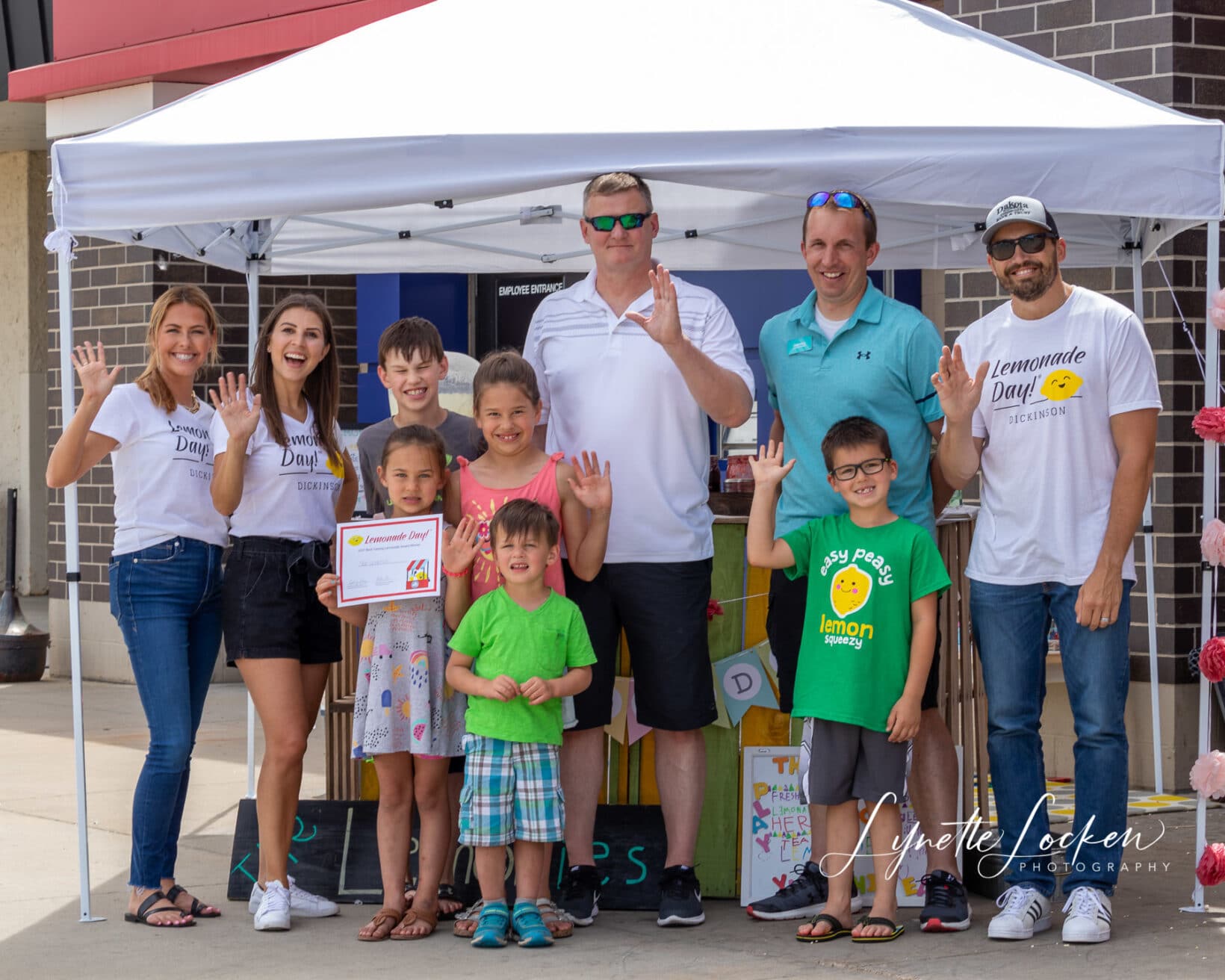 Dickinson is a pretty happenin' place to be for little entrepreneurs! Check out photos of June's Lemonade Day!
Thank you to all participants, judges, mentors, sponsors and volunteers!
SPONSORS
OutSTANDing
🍋 Dakota Community Bank & Trust
Main Squeeze
🍋 City of Dickinson, ND Local Government
🍋 ConocoPhillips
🍋 Optimist Club of Dickinson
Fresh Squeeze
🍋 Hampton Inn & Suites by Hilton
🍋 Titan Energy Services
🍋 Sax Motor Co.
Lemon Head
🍋 The Real Estate Co.
🍋 Dakota Signwerks
🍋 Lynette Locken Photography-The Traveling Lens
About Lemonade Day
The Chamber's Professional Development Committee created a sub-committee, The Lemonade Council. The Lemonade Council worked towards developing sponsors as well as getting the city of Dickinson to waive any fees or permits that would have been required to open a lemonade stand, enabling children to open one almost anywhere on June 19.
The day's contests included The Best Stand Design, sponsored by Bosch Lumber Company, The Best Tasting Contest, sponsored by Players Sports Bar & Grill, and the Business Results Contest, sponsored by Dickinson State University (scholarship) as well as The Chamber (bike)🚴‍♂️ .
Lemonade Day wouldn't be possible without the incredible investment from our volunteers and sponsors. This year's Lemonade Day Council volunteers included Katie Culver-Marsh, Danielle Kick, Jeremiah Thorpe, and Mayor Scott Decker.
Get involved with Lemonade Day 2022
The sweet taste of entrepreneurship was launched this year and Lemonade Day's volunteers, partners, sponsors & stakeholders are already thirsty for more!
"Lemonade day was a great way to show that the entrepreneurial spirit is alive and well in the city of Dickinson. Congratulations to all of the participants! I'm already looking forward to next years event," said Mayor Scott Decker.
Please follow the Lemonade Day Dickinson's Facebook page or check the Lemonadeday.org/Dickinson site for updates. As the program grows, so does the need for volunteers, partners and sponsors. Will you join the Lemonade Day Council and help next year's participants experience the sweet taste of success?
Want to see more photos 📸 from our friend & photographer, Lynette Locken?
About The Dickinson Area Chamber Of Commerce
The Dickinson Area Chamber of Commerce is a membership-based organization serving more than 450 businesses and organizations located primarily in Dickinson and southwest North Dakota. Our mission is to provide leadership to promote a progressive business environment.