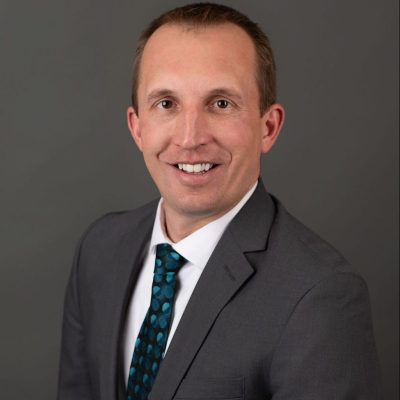 MEET CARTER FONG: THE CHAMBER'S EXECUTIVE DIRECTOR
Carter Fong is a 2002 graduate of Dickinson High School who returned to our community in 2006 after completing undergraduate studies at North Dakota State University in Fargo. He spent the next 12 years at Dickinson Trinity High School as an instructor, extracurricular advisor, athletic coach and administrator. Meanwhile, he completed his Master's in Secondary School Administration through the University of Mary in 2012 and added a North Dakota K-12 Superintendent's Credential in 2020. Carter married Stephanie (Tinjum) Fong in 2012, and together they have three children: Sydney (7), Parker (5), and Peyton (1). Most recently, Carter has worked for two years as a field agent for Knights of Columbus Insurance in western North Dakota.
Carter's love of our area is reflected in his service to our community and the region. He is a prior board member of the Dickinson Area Chamber of Commerce, and is the current President of the Board of Directors for the Western Wellness Foundation overseeing the Best Friends Mentoring Program. During his tenure, he has helped lead the program through an executive director transition along with the many challenges related to the COVID-19 pandemic. He and his wife are active members of Queen of Peace Church, and he led the state in the recruitment of new members to the Knights of Columbus in 2019-20. He has also been an event announcer for varsity regional football, volleyball and basketball tournaments. He is perhaps best known as Coach Fong, having led more than 30 different athletic teams across 6 different sports, including junior varsity legion baseball and varsity stints with the Trinity girl's basketball program and the Dickinson High School boy's tennis teams. For these and other gifts of time and talent, Carter was named the Dickinson Area United Way "Inspire By Example" and The Dickinson Press Best of the Western Edge Citizen of the Year in 2020.
Carter is eager to lead by example in connecting area entrepreneurs to enhance the quality of life in the Dickinson area. He hopes to add value to Chamber membership while continuing to build our network of community minded businesses and inspiring volunteerism and servant-leadership. He will be formally introduced at the Chamber's "State of the City" event on Thursday, May 20th.
I am looking forward to working with all of you and visiting more about how the chamber can continue to grow and strengthen the business community. It is an exciting time to be a part of the Dickinson Area Chamber of Commerce, and my team is thrilled to have the opportunity to be serving you.