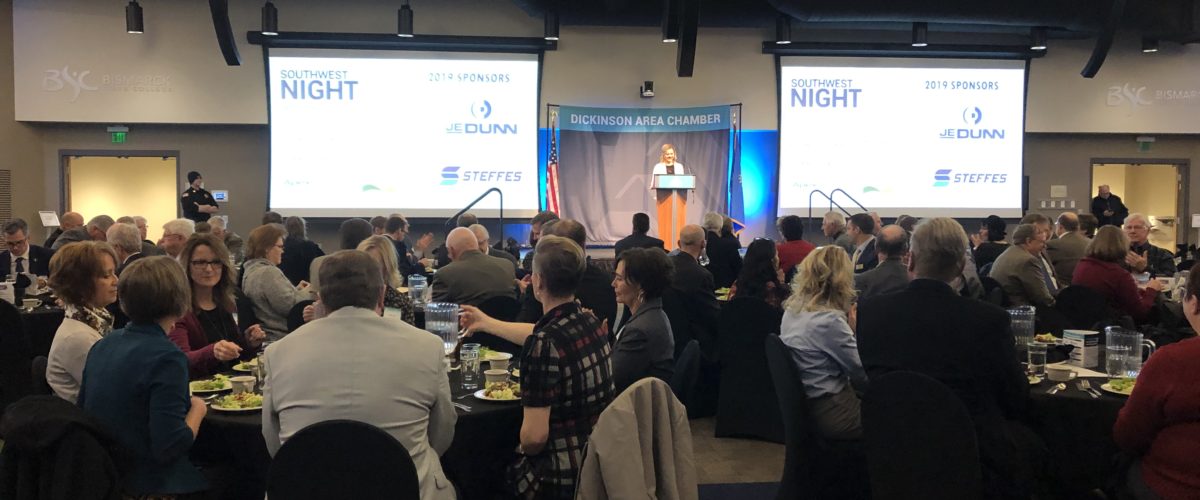 Southwest Night With The Legislators provides a unique opportunity for residents from the southwest region to make connections and discuss important issues.
Connecting 250 Southwest North Dakota residents and legislators from across the state.
Drifting snow and frigid temperatures did not keep the citizens of Southwest North Dakota from attending the biennial Southwest Night with the Legislators in Bismarck on January 28th.
THE EVENT

Hosted by the Dickinson Area Chamber of Commerce Government Relations Committee, this event has served as an important platform for the region since 1985, allowing people to connect with legislators from across the state.

This year, the committee narrowed the focus to one thing and that was the importance of networking and connecting with state legislators. With so many important issues this session, it is vital that the Southwest region has a voice and a stage for open dialogue. The Chamber is excited to announce that the event had representation from almost every southwest county, with Stark, Dunn, Billings, and Bowman stepping up to support the coordination and planning of the event. With strong regional partnerships, the event hosted a diverse and collective group.
It was not all business, as Reed Reyman, President of CHI St. Alexius Hospital in Dickinson, lead the evening as emcee of the event. Clay Jenkinson returned as President Theodore Roosevelt with his unforgettable humor and friendly roast of elected officials. The room lit up with laughter as the President highlighted some of this year's most eclectic proposed legislation.

Baker Boy supplied the desert for the evening, showcasing their amazing, state-of-the-art Magic Ring Donut.
Events like this would not be possible without the support of sponsors, attendees, and state legislators. A special thank you to the Southwest Night with the Legislators presenting sponsors JE Dunn and Steffes and supporting sponsors Apex Engineering Group and Northern Plains Engineering.
About The Dickinson Area Chamber Of Commerce

The Dickinson Area Chamber of Commerce is a membership-based organization serving more than 450 businesses and organizations located primarily in Dickinson and southwest North Dakota. Our mission is to provide leadership to promote a progressive business environment.
MEDIA CONTACT
Sarah Trustem
Executive Director
sarah@dickinsonchamber.org