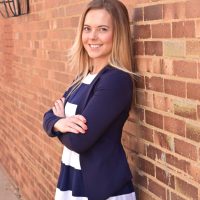 NEW YEAR WITH NEW BEGINNINGS
MEET SARAH TRUSTEM: THE CHAMBER'S EXECUTIVE DIRECTOR
With 2017 behind us, it is time to be looking at the next chapter of the Dickinson Area Chamber of Commerce, and I am proud to be writing you today to introduce myself as your new Executive Director. Our stated mission is to "provide leadership to promote a progressive business environment." As we look forward, we want to build on that mission and provide the leadership needed for our community and its members to grow and prosper.
As with any leadership change, it is important to look at what the chamber has been and how we can build on that looking to the future. We rely on the support and satisfaction of our members, and it is our number one goal to make sure they you are our focus moving forward.
Now a little about myself. I have an eight-year-old daughter, Aubrey, and my husband, Ryan, and I are expecting our first child in April. I am a 2007 graduate from Dickinson High School, received my B.A. in Political Science from Dickinson State University, and recently completed my Masters in Public Administration from the University of Mary. With a background in government and education, I hope to provide a fresh and unique perspective to the position. My focus for the next year will be member relationships, volunteer recruitment, and analyzing the status quo. We need to strengthen our advocacy role, provide more education for our members, and continue to encourage new businesses in the area.
I am looking forward to working with all of you and visiting more about how the chamber can continue to grow and strengthen the business community. It is an exciting time to be a part of the Dickinson Area Chamber of Commerce, and my team is thrilled to have the opportunity to be serving you.