TUESDAY, OCTOBER 3RD
RAMADA GRAND DAKOTA LODGE
SOCIAL | 5 PM - 6 PM
BANQUET | 6 PM

$50 | PERSON
TABLE OF EIGHT | $400

AT THE DOOR
Walk-Ins are welcome!

MENU

Garden Tossed Salad
Boneless Short Ribs
Mashed Potatoes
Cortex Carrots
> Vegetarian option available upon request
>> Cash Bar will be available
ANNUAL MEMBER APPRECIATION EVENT
Join us in celebration!

The Dickinson Area Chamber of Commerce 111th Annual Banquet is an event to thank members for their support, give out prestigious awards, and celebrate the chamber community.
This year we will be continuing last year's tradition - a portion of the ticket proceeds will go to support Breast Cancer patient care in the Dickinson area.
With October being national breast cancer awareness month, the banquet is a great opportunity to have a portion of the profits from ticket sales benefit a local charity.
We are excited to partner with Sanford and to provide the community an opportunity to raise money to benefit those fighting breast cancer within our very own community.
Refunds will not be given to guests who register but do not attend.
YOUR DONATION TO SANFORD STAYS LOCAL
100% to patient care and the cure

Entrepreneur Denny Sanford lost his mother, Edith, to breast cancer when he was only four. One of his life's goals is to end breast cancer so that no other child will have to grow up like he did, without the love and guidance of a mother. Thanks to his generous gift, which supports our operating expenses, every dollar you donate will be directly invested into the Dickinson area to support patient care. It's about the patients we serve; it's about finding a cure.
The Edith Sanford Breast Foundation is pioneering a bold new comprehensive approach to breast cancer, with a mission to unlock each woman's genetic code, advance today's prevention and treatment, and end breast cancer for future generations.
We are committed to advancing cutting-edge translational genomics research to identify specific treatments that will work best for each person, prevent the disease on an individual basis, and ultimately end breast cancer. By leveraging the resources and vast patient network of Sanford Health, our partner in patient care and research, Edith Sanford is uniquely positioned to accelerate lifesaving discoveries from the lab to the clinic, and into our community.
2017 Banquet Awards

Check out the nominees!
The Chamber is comprised of our great members and volunteers. We truly could not do the things that we do without our supporters. This year we have some brand new awards, here are the nominees, come join us at the banquet for the big reveal on who the winners are. We look forward to seeing you there!
AG BUSINESS OF THE YEAR
• American Bank Center
• Charbonneau Car Center
• Dakota Community Bank
• Sax Motor
AG FAMILY OF THE YEAR
• Weston Dvorak
• Jeff Kuhn
• Shane & Amanda Talkington
BOARD MEMBER OF THE YEAR
• Brady Boese, Boese Image Builders and American Bank Center
• Katie Culver, Hampton Inn and Suites
• Zach Keller, American Insurance Company
• Ty Orton, DSU Heritage Foundation
BUSINESS OF THE YEAR
• Dakota Community Bank
• Dickinson Press
• Dickinson State University
• Quality Quick Print
• Prairie Hills Mall – Shop Local Campaign

HOME TOWN PRIDE
• The Arc of Dickinson
• Enterprise Rent-A-Car
• Fluffy Fields
• Joy / Eight-0-Four
• Pizza Hut
• Signarama
OUTGOING BOARD MEMBERS
• Jarris Bergherr, Westwood Multi-Disciplined Surveying & Engineering
• Suzi Sobolik
NON-PROFIT OF THE YEAR
• Arc of Dickinson
• Amen Food Pantry
• Best Friends Mentoring
• Power of 100 Women
• Stark County Fair Board

VISIONARY OF THE YEAR
• Amber Kuntz, Joy/Eight-O-Four
• Peggy O'Brien, Prairie Hills
• Laurie Strommen, Quality Quick Print

VOLUNTEER OF THE YEAR
• Kelly Heimbach, Ramada Grand Dakota Lodge
• Mary Lewton, Edgewood Hawks Point
• Jim Lucchi, Whiting
• Cal Oraw

YOUNG PROFESSIONAL OF THE YEAR
• Jennifer Braun, Community Action Partnership Head Start / Early Head Start Director
• Sarah Jennings-Trustem, City Commissioner
• Amanda and Josh Hardin, Owners CNC Clothing
• Dr. Marcus Lewton, Principal Dickinson Middle School
AG BUSINESS OF THE YEAR
West Plains Inc.
AG FAMILY OF THE YEAR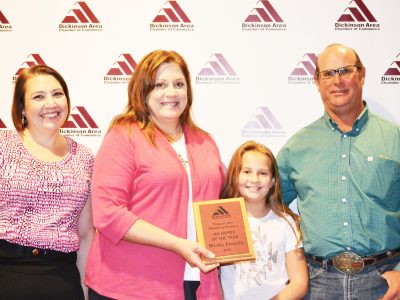 Wicks Family
BUSINESS OF THE YEAR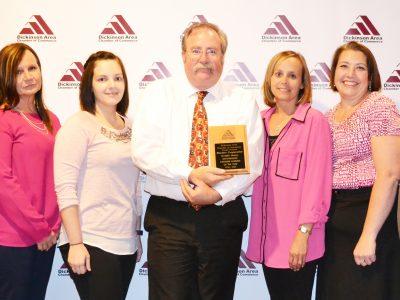 Western Cooperative Credit Union
DIRECTOR OF THE YEAR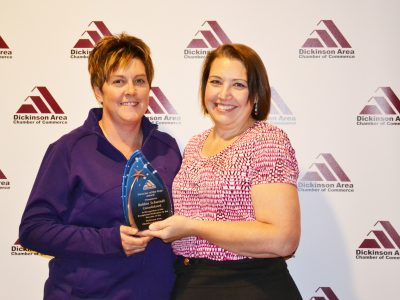 Robbin Schwindt, Consolidated
VISIONARY OF THE YEAR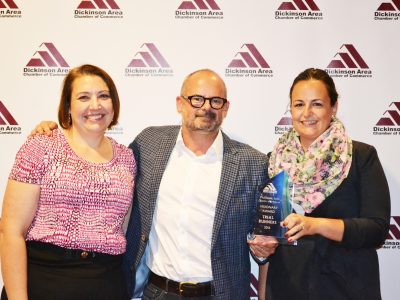 Jill & Patrick Healy, Trial Runners
VOLUNTEER OF THE YEAR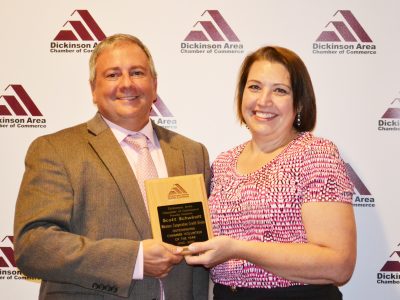 Scott Schwindt, WCCU
YOUNG PROFESSIONAL OF THE YEAR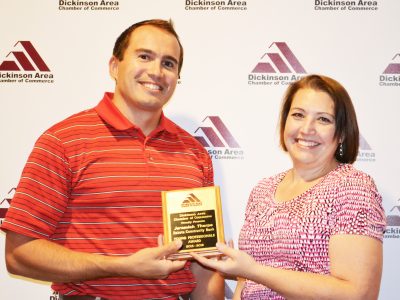 Jeramiah Thorpe, Dakota Community Bank & Trust

HOME TOWN PRIDE | Rural Fire Department