New Program: Dickinson Area Chamber of Commerce launches business professional program.

Develop Dickinson made its debut on August 20
.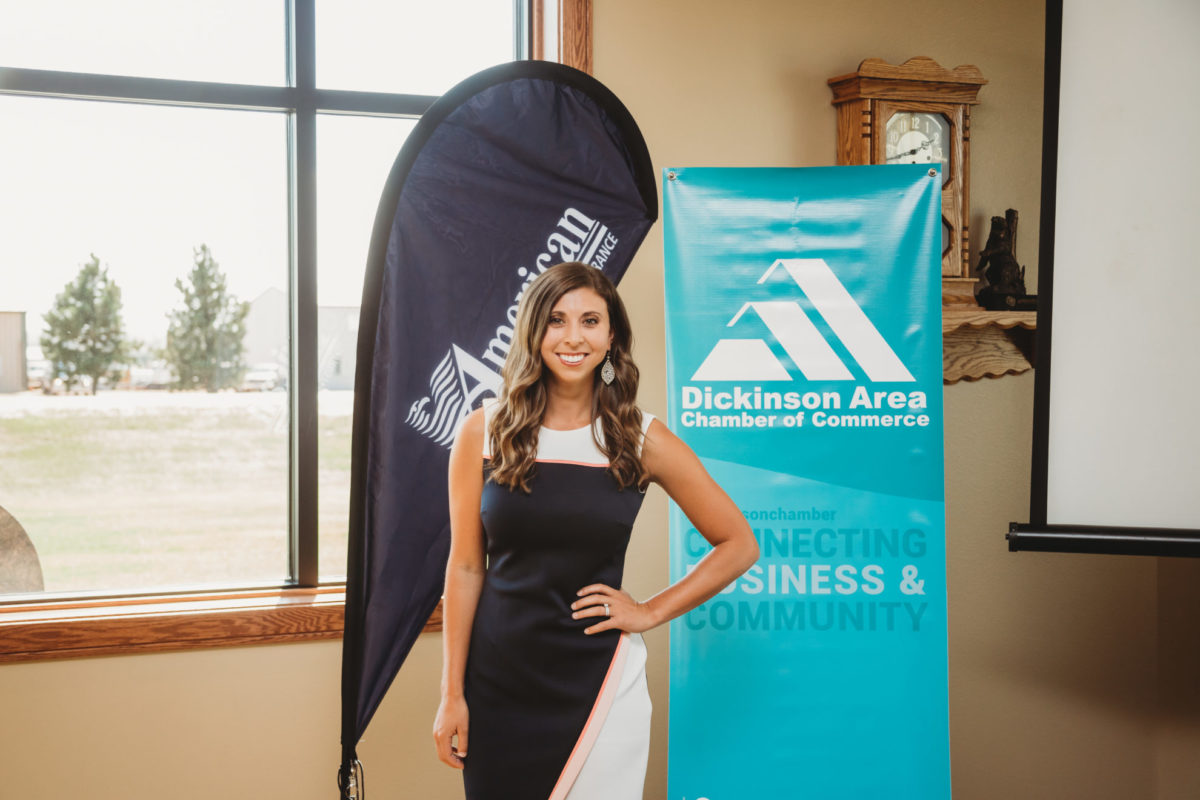 FOR IMMEDIATE RELEASE
Dickinson, ND - August 20
Together, the Dickinson Area Chamber of Commerce and our Professional
Development Committee, are excited to announce the launch of Develop Dickinson.
This business professional program seeks to develop the professional, personal and leadership skills of Chamber member employees, and networking events foster connections in the business community.

Developed by Program Directors: Kari Dunn, American Bank Center, Terri Stevenson, Real Solutions and Jeremiah Thorpe, Dakota Community Bank & Trust, this program provides practical, affordable opportunities to advance career & skill sets.
"We are excited to have launched Develop Dickinson on August 20th, we are looking forward to bringing more talent, such as Kelsey, to Dickinson and highlighting our local talent here. Our purpose is simple- to bring more professional development to the Dickinson area, to keep training affordable, to retain
employees and assist business owners with training that accommodates a variety of topics," said Kari Dunn.

On August 20, Kelsey Joy Buell, Motivational Speaker & Talent Consultant Kelsey Joy LLC, presented on Talent Optimization During Times of Change.
"I'll admit I had no idea what to expect as I took a leap of faith and ventured west to Dickinson from Fargo. I was welcomed with open arms and could not believe how warm and receptive the audience was. The energy in the room was so contagious. I have been going speaking engagements in front of many different types of audiences…and so far, this has been one of my favorite speaking engagements yet! I cannot wait to come back to Dickinson and interact again with all of the amazing people again soon," said Kelsey Joy Buell.
Kelsey is a risk-taking, socially poised and motivating team builder. She is an accomplished violinist and singer having performed in front of audiences as large as 20,000. She has given over 200 presentations on networking skills, communication strategies, and behavioral assessments. She has a strong passion for training and development. As a corporate recruiter, she has conducted over 2,000 candidate interviews. And through her experience, she uncovered the fact that many people are disengaged in their jobs. Kelsey's goal is to help business leaders discover ways to prevent employee turnover.
Develop Dickinson events over the year focus on four types of development: community, educational, networking & professional.

Mark your calendar for the upcoming Develop Dickinson events: Planning & Budgeting, Employee Wellness: Health Enhancement, Do's & Don'ts Of The Workplace and Grow with Google.
This series supports The Chamber's continued commitment to providing leadership that promotes a progressive business environment.
Learn more about and sign up for this program at dickinsonchamber.org.
About The Dickinson Area Chamber Of Commerce
The Dickinson Area Chamber of Commerce is a membership-based organization serving more than 450 businesses and organizations located primarily in Dickinson and southwest North Dakota. Our mission is to provide leadership to promote a progressive business environment.
MEDIA CONTACT
Megan Klassen
Marketing & Communications Manager
megan@dickinsonchamber.org