Lemonade Day made its sweet debut in Dickinson on July 20
Dickinson area children sold lemonade all over town.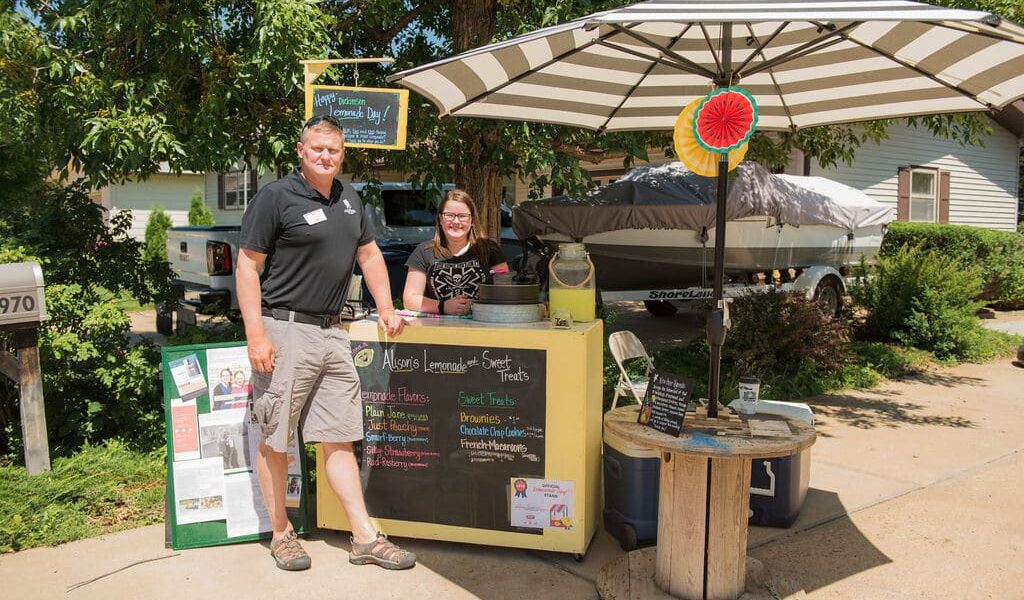 FOR IMMEDIATE RELEASE
Dickinson, ND - July 24
On Saturday, July 20, Lemonade Day, an educational program that teaches kids real-world experience about how to own and operate a business, made its sweet debut.
Lemonade Day reached over 100 young entrepreneurs in Dickinson and showcased over 20 stands featuring a variety of delicious flavors, homemade treats and marketing themes.
Katie Culver, Lemonade Day City Champion and Dickinson Area Chamber Of Commerce Board Member championed bringing the program to Dickinson after visiting with the Bismarck - Mandan Chamber Of Commerce in early 2018.
The Dickinson Area Chamber Of Commerce, program partner, agreed that the Lemonade Day aligned with their mission in growing and sustaining a strong community of businesses by cultivating a new generation of entrepreneurs with the ability to provide future new jobs and businesses to their city.
Planning commenced within the Professional Development committee to bring this program to fruition.
The Chamber's Professional Development Committee created a sub-committee, The Lemonade Council. The Lemonade Council worked towards developing sponsors as well as getting the city of Dickinson to waive any fees or permits that would have been required to open a lemonade stand, enabling children to open one almost anywhere on July 20.
Katie Culver, Lemonade Day City Champion, said, "From the first moment I heard about this program I knew we needed to offer this learning opportunity to our kids here in Dickinson. We have amazing talent here locally that just needs to be developed."
Saturday's participants ranged from age 6 all the way up to junior high age. In one day, the young entrepreneurs of Dickinson worked to use their profits in three ways, save, spend, and donate a portion that they decided ahead of time in their business plan. But even more important than the money is the business experience acquired through the Lemonade Day curriculum and this unique learning process.
"The best part about Lemonade Day was meeting the President of Dickinson (Mayor Scott Decker) and helping the people keep nice and cool." Catie Oldham, age 6, owner of Catie's Café stand. Catie's stand served lemonade of course, as well as strawberry lemonade, bottled water, sparkling water, sugar cookies, pretzels, and chips.
Lemonade Day also included local & nationwide contests. The day's contests included The Best Stand Design, sponsored by Bosch Lumber, The Best Tasting Contest, sponsored by Blue 42, and the Business Results Contest, sponsored by Dickinson State University as well as The Lemonade Day National
Organization.
Lemonade Day wouldn't be possible without the incredible investment from our volunteers and sponsors. This year's Lemonade Day Council volunteers included Katie Culver, Danielle Kick, Zach Keller, Michelle Orton, Jeremiah Thorpe, Ty Orton, and Mayor Scott Decker.
"Volunteering on the Lemonade Council, and the day of the event was such a great experience. Every single stand we visited excited young students that were eager to show off their talents and knowledge. It was an amazing day, and I am so grateful for the support of community, and equally proud of all the young entrepreneurs. I'm already looking forward to next summer!" said Zach Keller, Dickinson Area Chamber Of Commerce Board President and Professional Development Lemonade Day Council volunteer.
More than 16 sponsors teamed up to bring Lemonade Day to Dickinson.
+ Main Squeeze Sponsors: The Real Estate Co., and Optimist Club Of Dickinson.
+ Fresh Squeeze Sponsors: Hampton Inn & Suites, Titan Energy Services, and Wells Fargo
+ Lemon Head Sponsors: American Bank, Cornerstone Bank, Dakota Community Bank and Trust, and Gate City Bank.
+ Lemon Drop Sponsor: US Bank
+ Contest Sponsors: Blue 42, Bosch Lumber Co, and Dickinson State University
+ Photography for the day donated by Britani Keller Photography
"Upon hearing the idea of Lemonade Day, The Real Estate Co. instantly wanted to be a part of it," said Amber Kuntz, The Real Estate Co and Dickinson Area Chamber Of Commerce Board Member.
Amber Kuntz continued, "It is such an incredible program and exciting opportunity to encourage young entrepreneurs here in our community. We believe in teaching our youth the value of hard work and dedication to an idea and vision and bringing it to life."

Get involved with Lemonade Day 2020
The sweet taste of entrepreneurship was launched this year and Lemonade Day's volunteers, partners, sponsors & stakeholders are already thirsty for more!
"Lemonade day was a great way to show that the entrepreneurial spirit is alive and well in the city of Dickinson. Congratulations to all of the participants! I'm already looking forward to next years event," said Mayor Scott Decker.
Dickinson's Lemonade Day 2020 is scheduled for June. Please follow the Lemonade Day Dickinson's Facebook page or check the Lemonadeday.org/Dickinson site for updates. As the program grows, so does the need for volunteers, partners and sponsors. Will you join the Lemonade Day Council and help next year's participants experience the sweet taste of success?
About The Dickinson Area Chamber Of Commerce
The Dickinson Area Chamber of Commerce is a membership-based organization serving more than 450 businesses and organizations located primarily in Dickinson and southwest North Dakota. Our mission is to provide leadership to promote a progressive business environment.
MEDIA CONTACT
Megan Klassen
Marketing & Communications Manager
megan@dickinsonchamber.org