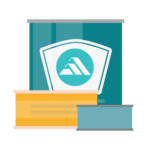 Back-To-School Food Drive
It's Back-To-School season and we want to help support our community with a Back-To-School Food Drive!
HERE ARE THE DETAILS:
We are giving away $50 in Chamber Bucks to 2 different winners on Wednesday, August 21. Bring in your donation to the Chamber for a chance to win.
Hurry, deadline is Wednesday, August 21!
WHAT ARE CHAMBER BUCKS?
Chamber Bucks are gift certificates to businesses belonging to the Dickinson Area Chamber of Commerce. Each business that chooses to participate accepts the Chamber Bucks as cash, then turns them in to the Chamber, who then reimburses the business.
The program increases the visibility and effectiveness of the Chamber for our membership by promoting our local economy, and raises awareness of the fact that together, our support of local commerce makes the difference.
HOW DO I USE CHAMBER BUCKS?
For supporters, using Chamber Bucks is as easy as cash! Simply write in the business name on the line provided, and apply it toward your purchase.
Businesses, simply drop by or mail the redeemed Chamber Bucks and we write you a check!
You will be reimbursed for 100% of the Bucks' value. It's that simple!