Mission:  To promote the Chamber, Dickinson businesses, the Dickinson community and southwestern North Dakota.

Shop Dickinson campaign
Every year around back-to-school time and around the holidays, the Chamber does a print and radio advertising campaign to encourage local consumers to shop locally. Every dollar that gets spent in Dickinson not only stimulates the local economy, but encourages other businesses to relocate here, enhancing the quality of life for everyone.
Chamber Bucks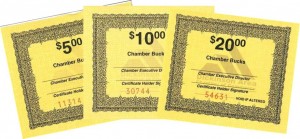 Chamber Bucks are gift certificates that function the same as cash at any Chamber member business. Purchase yours at the Chamber and then spend them like cash! Participating businesses just return them to the Chamber for 100% reimbursement.
Business After Hours
Business After Hours is the Chamber's monthly networking meeting. It is generally held the first Tuesday of every month, at 5:00 pm at a different location every month. (Please check our events calendar for specific details.) Come enjoy the food, drinks, and great company! Or contact us to schedule a Business After Hours at your location!