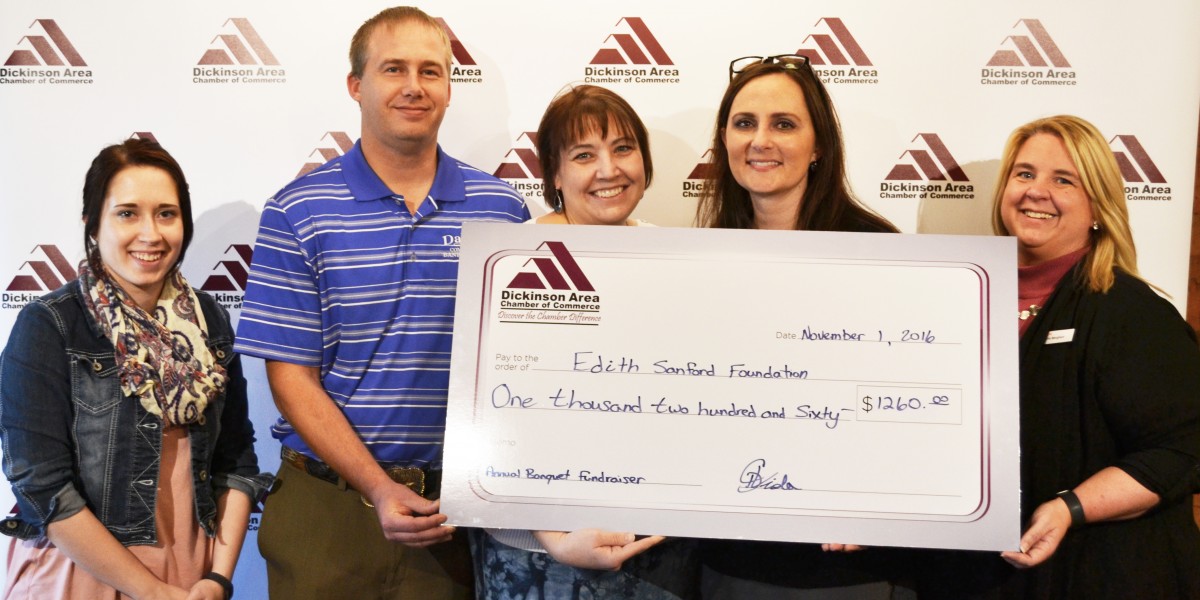 Chamber Members Support Breast Cancer Patient Care
By Attending Annual Banquet
Annual Member Appreciation Event Raises Money to Benefit Our Community
The Dickinson Area Chamber of Commerce would like to thank our members for supporting a new tradition at this year's annual banquet – held on Tuesday, October 4th at the Ramada Grand Dakota Lodge. With October being national breast cancer awareness month, our banquet was a great opportunity to have a portion of the profits from ticket sales benefit a local charity, in addition to, thanking members for their support, giving out prestigious awards, and celebrating the chamber community. This year a portion of the ticket proceeds from our banquet went to support Breast Cancer patient care in the Dickinson area.
Our members, through the annual banquet event, were able to raise $1,260 for the Edith Sanford Breast Foundation.
Donations to Edith Sanford Breast Foundation Stay Local
Entrepreneur Denny Sanford lost his mother, Edith, to breast cancer when he was only four. One of his life's goals is to end breast cancer so that no other child will have to grow up like he did, without the love and guidance of a mother. Thanks to his generous gift, which supports Edith Sanford Breast Foundation's operating expenses, every dollar donated will be directly invested into the Dickinson area to support patient care.
The Dickinson Area Chamber of Commerce is comprised of our great members and volunteers. We truly could not do the things that we do without their support.
THANKS FOR YOUR SUPPORT!