ONE LAST CHECK-IN WITH OUR AWESOME SUMMER INTERN, NATHAN ZENT
To celebrate his time at the Chamber, Nathan has recapped his top internship moments.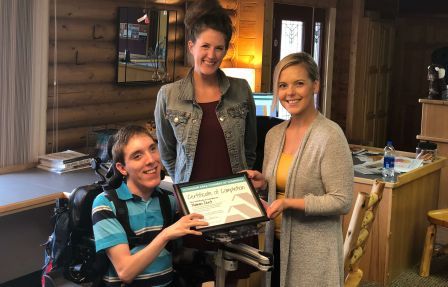 To wrap up Nathan's summer as a Chamber intern, we asked him to share his thoughts on the internship, go through some highlights, what he has taken away, and more.
Check out what he's learned and cool things he's been a part of.
EVEN THOUGH MY INTERNSHIP WAS SHORT, I WAS ABLE TO HAVE VALUABLE TAKEAWAYS FROM THE EXPERIENCE.
I had the opportunity to attend multiple professional meetings including Community Relations, Promotions Committee and a Board Meeting.
Through attending these meetings, I was able to see first-hand how much planning and collaboration between businesses in Dickinson and the surrounding area it takes to put on events.
This experience has also given me an appreciation for the need to volunteer to help out with an event or cause that a person is passionate about. Without people coming together the community of Dickinson and the surrounding area would not be as happening of a place.
I also took away from the internship that it is important to write consistent with the Chamber voice. This way people are both receptive to coming to Chamber events, as well as keeping the Chamber in mind as a resource to learn more about the services that businesses in Dickinson and the surrounding area have to offer.
Additionally, what interning at the Chamber has impressed upon me is the ability to participate in the lively atmosphere that the staff at the Chamber and Stark Development provides while still being productive. I have enjoyed the ability to have in-person feedback on how to improve my writing skills.
Interning at the Chamber has reinforced the concept that I have learned in my college classes of being concise in the words I choose so that my readers do not lose interest in what the Chamber is promoting.
During my time at the Chamber I contributed to the Chamber by being positive each day. I also brought my sense of humor to the workplace. Having a sense of humor helps to make the work-day go fast and it makes the workplace enjoyable.
Post internship I hope to volunteer for the Chamber and I hope to use my communication skills I have gained from interning at the Chamber to help with events at Dickinson State University. Skills I have learned or improved will be beneficial to me as I progress through college and continue to cultivate relationships with prominent members of Dickinson and the surrounding area that will help me to be a successful member of the work force.